Sunandan Ray
Chairman & Chief Executive Officer
Sunandan has close to 30 years of experience in the logistics industry. He established and currently manages over 15 of ULHL's offices in the US and India with over $70 million in revenue. Prior to his partnership with ULHL, Sunandan established and managed operating companies on behalf of MSAS Cargo International (now part of DHL/ Deutsche Post) in USA, India, Sri Lanka, Bangladesh, Mauritius and Turkey from 1989 to 1997. Sunandan successfully negotiated with MSAS Cargo, a management buyout of the companies under his management and after building the group over 10 years into a US $50 million enterprise, it was bought by French transportation company, Group Bollore. From 1992 through 1996, Sunandan built and sold to a strategic investor a group of software companies, Sunrise Group, which had over US$ 10 million in revenue at the time of sale.
Sunandan is a qualified Chartered Accountant (London, UK) who worked for 10 years with Price Waterhouse (now PWC) in London, UK, The Hague, Netherlands and New York, NY from 1979 to 1989. He also holds a Masters in Science (Technology) in Computer Science from the Birla Institute of Technology & Science, in Pilani, India. Sunandan lives in Long Island, New York with his wife of 32 years, Monica, a botanical artist.
Eli Kay
Chief Financial Officer
Eli Kay combines over 25 years of experience in finance and accounting. Mr. Kay joined Unique Logistics International Inc. in February 2021 as an Assistant Chief Financial Officer. He is responsible for all aspects of financial management of the company, including required Securities and Exchange Commission reporting and compliance. Prior to joining Unique, from October 2019 to November 2020, Eli served as a CFO for Transit Wireless LLC, an exclusive provider of wireless infrastructure in the New York City Subway. Prior to that, from December 2016 to October 2019, he served as a CFO at JFKIAT, a joint venture between Delta Airlines and Royal Schiphol Group created with purpose of building and managing Terminal 4 at JF Kennedy International Airport. His previous experiences included oversight of complex private and municipal budgets serving as CFO and Treasurer for San Mateo County Transit District (commuter rail, highway, and bus system) from January 2016 to December 2016 as well as a private equity CFO for the Chicago Skyway and the Indiana Toll Road Concession Companies (privately operated toll road infrastructure) in Chicago, IL, from November 2013 to January 2016. Prior to that Mr. Kay held various senior management positions in finance and accounting with several large publicly traded companies from 2006 to 2013. Mr. Kay began his career in public accounting in 1997, spending almost 4 years with Moss Adams LLP and 6 years with PricewaterhouseCoopers LLP. Mr. Kay holds a Bachelor's in Accounting from the University of Oregon and completed a Master's in Business Administration in Finance, from the University of Oregon. He is a Certified Public Accountant
Dawn Lowry
Executive Vice President, Customs Services
Dawn Lowry has 25 years of experience in Supply Chain Management. She currently serves as the Executive Vice President responsible for Customs Brokerage and Compliance. Her career started with Unique Logistics International (BOS), Inc. formerly known as Dynasty International, in 1995. Dawn's main focus has been expending brokerage services within the United States for the Group. She currently lives on the North Shore in Massachusetts with her husband of 22 years, Stephen, and their three children, Gabrielle, Aidan and Colin.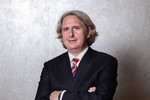 Oscar Marc Schlossberg
Executive Vice President, Air Freight
Marc is a born & bred New Yorker, serving as Executive Vice President of Air Freight Product and as EVP of Sales & Marketing for Unique Logistics International. Second generation, Marc's career in the industry spans four decades in the USA and in Asia. Marc has a track record of successfully advising global shippers on the management of their air freight flow, especially during critical periods of congestion. Solutions are built around blocked space agreements negotiated with airlines and also the deployment of charter aircraft programs. He is a specialist in Operations, Procurement, Sales and Management. In his career, Marc has held senior executive positions with several companies including Airgate International, Hanjin Airbridge, Wings Logistics, and Delmar. Marc manages and maintains key client relationships that include The Gap, American Eagle Outfitters, Williams Sonoma, G-III Apparel and more. He holds a bachelor of arts in both Government & English Literature from Connecticut College and is currently enrolled in Harvard Business School's Business Analytics program. He resides in Brooklyn with his two children & wife of 29 years.
Christian Sur
Executive Vice President, Ocean Freight
Christian currently holds the position of Executive Vice-President at Unique Logistics International responsible for the company's ocean freight and contract logistics products.
Before joining Unique Logistics, Christian held senior commercial/marketing level positions at major steamship lines (Hanjin Shipping/SM Lines) for over 27 years focused on organizational management and business development of key clients (Walmart, Target Stores, Nike, HP, Amazon, Microsoft, Starbucks, Costco, Samsung, LG, Electrolux) at an executive level. Christian's career includes global marketing and sales leadership assignments in Long Beach, CA; Paramus, NJ; Chicago, IL; Seattle, WA and Seoul, Korea. Christian holds a Bachelor of Science in Economics/Political Science from University of California at Irvine. He currently lives in Irvine, California with his wife of 23 years, Alexandria, and three children - Chrystina, Allyson, and Ryan.